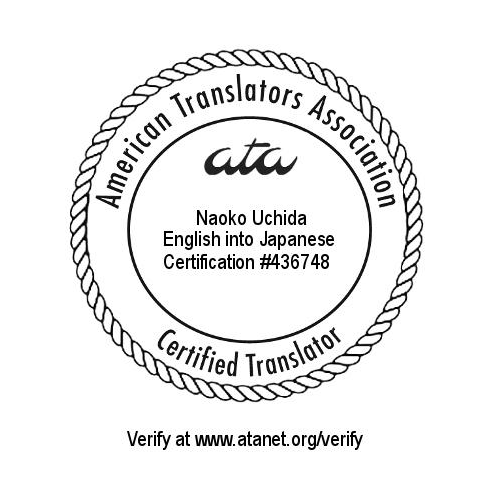 Quality.
Clarity. Reliability.
Naoko Uchida is an ATA-certified freelance translator with MA degree for Translation and Interpretation in Japanese. After years of in-house experience in software localization industry in Japan and US, she became a freelancer since 2000.

Now based in Vancouver, Canada, she is serving a wide range of clients in US, Canada, Europe, and Japan with a strong track record of quality, clarity, and reliability.
Professional
Works
Translator/Consultant
External Linguist: Translator entrusted with a range of published and monetized contents for businesses, government agencies, and professional organizations. Reviewer with proficiency in Linguistic Quality Assurance (LQA) workflow.

Evaluator/Trainer: Third party evaluator for vendor translation tests. Screener for Japan Association of Translator's annual translation contest. Trainer for new and aspiring translators.

Lectures/Presentations
Japanese Translation Workshop at Simon Fraser University (Visit us on Facebook): 2012-Present

"Trends in Translation Trials: In-Demand Skills in Today's Market" at Japan Translation Federation (JTF) Seminar, Tokyo: 2019 (Slide)

"Translation Trial Now" at Society of Translators and Interpreters of British Columbia (STIBC) Workshop: 2018 (Slide)

"Readability Matters: Insist on the Human Touch to Stay Competitive" at ATA 57th Conference, San Francisco: 2016 (Slide)

"Translation Tools: Friend or Foe?" at IJET 22 Conference, Seattle: 2011 (Slide)

"Managing Redundant Translations in TRADOS Translation Memory" at ATA 45th Conference, Toronto: 2004 (Lecture / Handout)


Published Articles
"Keeping Distance from the Source Text: a Proper Approach of Translation." Interpretation and Translation Journal 2013 Fall: 114-115.

"Observations on the Tendency to Lose Context When Using Translation Memory Tools." Interpreting and Translation Studies (9) 2009: 273-285.

Membership
American Translator Association (ATA) - Voting Member

Japan Association of Translators (JAT) - Member, JAT Translation Contest Preliminary Judge

Japan Association for Interpretation and Translation Studies - Member